ALSPA MV3000 is a range of compact variable speed AC drives covering the majority of industrial applications from general purpose machinery to high performance process lines. Ranging from 22kW to 3.6MW, ALSPA MV3000 offers a choice of control modes including:
Field Bus Coupler: F8000, Profibus DP, Interbus S, Modbus Plus, Bitbus, SNET 1 AC Drives - LV7000 Family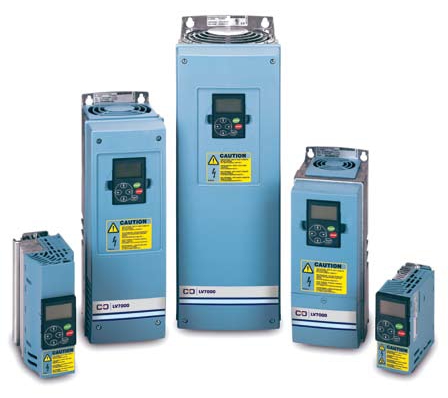 The LV7000 family comprises compact and high performance drives. The key design feature is the software and hardware modularity. Two types of control are available – the standard sensor-less vector control and the closed loop flux vector control for more demanding applications. LV7000-1 is a space-saving compact drive whereas the LV7000-2 and 3 is a high-performance drive combined with powerful support for various software applications. In addition to the standard I/O in the basic drive, there is room for option cards with more I/O, fieldbus cards or additional application specific hardware. The option cards can be used in all three drive types: one option card in the LV7000-1 to expand the basic drive, and up to five option cards in the LV7000-2 and 3 to create the necessary configuration for your application.
The drives are easy to program and use via the keypad. The keypad can easily be removed for hand held use or door mounting. The LV7000-1 has a detachable, seven-segment LCD keypad without memory capabilities. It is used to communicate with the drive, set parameters and for monitoring. The LV7000-2 and 3 have a detachable, alpha-numeric keypad with built-in memory. In addition it can be used to copy parameters between different drives and storage of the active parameters for future use.
All Converteam LV7000-2 and LV7000-3 drives are delivered with the All in One application package, a selection of pre-installed applications. An application is a predefined set of parameters and functions, designed for a specific purpose. When you choose the application that corresponds to your requirements, the drive will be easy to set up. All required parameters are available, but the parameters which are not needed in the specific application, will be hidden. For each application there is a start-up wizard that will guide you through the start-up process and parameter settings. The drive is also capable of identifying motor parameters, further easing the start-up.
All applications support fieldbuses. The application that best fits your needs can be chosen from the following:
Basic application
Standard application
Local/remote application
Multi-step speed control application
PID control application
Multi-purpose control application
Pump and fan control with autochange
Customized applications
The LV7000 family may be used for the replacement of MV500, MV1000 and MV3000 drives that had been transitioned to obsolete.
LV7000-1
The compact size and flexible installation options make the LV7000-1 suitable for installations where space is at a premium. The small MF2 and MF3 frames can be mounted using a DIN rail either at the back or at the side of the drive; the larger MF4-MF6 frames are wall mounted.

The LV7000-1 includes an easy-to-use and flexible multi-control application. The need for parameter adjustments is kept to a minimum, thanks to well-defined default settings. All I/Os can be programmed. The versatile features include full motor protection, flying start function, sleep function and a PID controller, with the possibility to control 3+1 pumps (PFC). The bookshelf design, the enclosure options and EMC classes offer an optimal solution for all operating environments.

Features:
Steady state speed error less than 1%
Low torque ripple
High immunity to resonance vibrations
Starting torque > 200% depending on motor and drive sizing
Suitable for multi-motor applications
Single Phase models: 208-240VCA / 0.25-1.5kW
3 Phase models: 380-500VCA / 0.37-30kW
Data-Sheet LV7000-1
Technical Data LV7000 Family
LV7000-2
The LV7000-2 is designed to be a standard, easytouse drive with a wide application area. It is based on an advanced sensorless vector control concept, which gives a very good motor control under all circumstances. An automatic torque maximizer feature is available, ensuring that all loads can be started reliably. It also includes an automatic energy saving feature, which optimizes the motor flux as a function of motor load and speed. The basic drive operation is also suitable for multi-motor applications.

Features:
Steady state speed error less than 1%
Low torque ripple
High immunity to resonance vibrations
Starting torque > 200% depending on motor and drive sizing
Suitable for multi-motor applications
High-speed applications (up to 7200 Hz) possible
mains voltage from 208 VAC to 690 VAC, power up to 2 MW
Data-Sheet LV7000-2
Technical Data LV7000 Family
LV7000-3
The LV7000-3 is used in all cases where a very high precision of speed and torque under all circumstances are required. Equipped with high processing power, the LV7000-3 can use information from an encoder or a resolver in order to provide very precise motor control. Sensorless vector and normal U/f control are also supported. Typical applications requiring high performance are:
master-slave drives
positioning applications
winder tension control
and synchronization
Features:
Speed error less than 0.01%, depending on the encoder
Incremental or absolute encoder support
Encoder voltages of 5 V (RS422), 15 V or 24 V, depending on the option card
Full torque control at all speeds, including zero
Torque accuracy less than 2%; less than 5% down to zero speed
Starting torque > 200%, depending on motor and drive sizing
Full capability for master/slave configurations
Integrated data logger for system analysis
Fast multiple drive monitoring with PC
High-speed bus (12 Mbit/s) for fast inter-drive communication
High-speed applications possible
same ranges as LV7000-2 model
Data-sheet LV7000-3
Technical Data LV7000 Family
ALSPA MV500
Obsolete, no spare parts available
Replaced with the LV7000 Drives family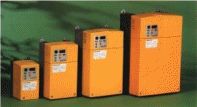 The ALSPA MV500 range of low power drives brings reductions in both cost and complexity. No drives knowledge is required to install and use this drive in most applications. The drive offers ease of operation with only 10 parameter settings required for most applications.

Features:
power from 0.25 KW to 15 KW
nominal output current from 1.5 A to 30.5 A
one control card with 2 processors
a 2-wire RS485 serial link networking options: Profibus, Modbus + Interbus S, DeviceNet, CAN digital or analog I/O
single or three-phase power supply: 200-240 V or 380-480V
MV500 Data-Sheet
MV500 User Guide
MV500 Advanced user guide
ALSPA MV1000
Obsolete, no spare parts available.
Replaced with the LV7000 Drives family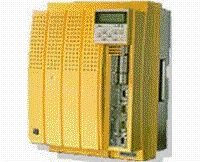 Intelligent drive technology from 0.75 kW up to 45 kW. ALSPA MV1000 complements our well-known ALSPA MD2000 series in the lower power range while using the same software and user-interface. The versatile hardware and software in the MV1000 allows special solutions, making drive technology more flexible. The series is equipped with many integral freely configurable facilities. Custom application software is created by our engineers using the LogiCAD project design tool.
The drive is an inverter suitable for any drive configuration in single or multiple motor systems. Four-quadrant operation is possible with DC-braking including mains generation.
MV1000 - Data-sheet
MV1000 Operating Manual
MV1000 Quick start programming guide
ALSPA DC Drives
ALSPA VNTC and WNTC
Obsolete, no spare part available. Please, ask for replacement.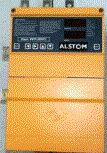 V/WNTC is the latest family of advanced, micro-processor controlled DC variable speed drives. The range of output current is from 25 A to 1850 A. All sizes share control, monitoring, protection and serial communications. All are available in either 'single-quadrant' or 'four-quadrant' configuration. Single-quadrant drives provide forward run operation only. Four-quadrant drives are fully-reversible. Both types offer comprehensive control of motor speed and/or torque.

Data-Sheet WNTC/VNTC

SEMIPOL Static Excitation Equipment

Coupled with a Static Frequency Converter, Power Conversion's static excitation equipment provides performing coping with grid power variation, with one single interface to the power plant control. The static excitation equipment can be tailored to many types and sizes of power plants. In addition, pump turbines are usually equipped with induction or synchronous machines.

Features & Benefits:
Performance: Field current from 20 MW to 1000 MW
Reliability: Redundancy fans, Thyristor bridge and control
Safety: Integrated power system stabilizer and control limiters for field and static current
Cost savings: No diagnostics and maintenance needed
Simple use: Customer interface for simple operation.
Spare parts:
Actual value processing module Medium Voltage Drives MV4000, MV6000 and MV7000 Series
MV7000
MV7000 drives cover medium and high power ranges up to 81 MW with motor voltages from 3.3 to 10 kV and higher voltages on request. The drives are water-cooled Pulse Width Modulation (PWM) voltage source inverters. They can feed both induction and synchronous machines with high performance vector control, across all speed ranges.
The modular MV7000 drive features options such as regenerative front ends, dynamic braking choppers and connection to a common DC bus, thus ensuring that the drive can be configured to suit virtually all applications.
MV7000 drives feature, as standard, a 12-pulse or 24-pulse diode front end converter, fed by a 2 or 4 phase-shifted secondary winding transformer. The harmonics injected into the network are very low.
The drive complies with international standards for voltage and current harmonic distortion, without additional harmonic filters or VAR compensation equipment. The drive continues to operate in the event of voltage dips without tripping (fault ride through).

Features & Benefits:
Power quality: low harmonics and high power factor minimizing effect on supply network
Quality output: connection to new and existing standard motors without derating
Performance with high efficiency up to 99%
Reliability with press-pack IEGT technology, fuseless protection and low component count
Power density: up to 1.1 MVA/m3 for the complete drive
Low operating costs
Ease of maintenance, no rear access required
Available Spare parts: Please ask

AEG Drives

Obsolete, no spare parts available - Please, ask for replacements.

Microverter / Microverter D

Analog Voltage source inverter.
Replacement parts and service are not available.
Documents are available only as paper copies. Please contact us for more information.

Microsemi

A small DC converter with a rating between 0.68kW and 4.5kW
Replacement parts and service are not available.
Documents are available only as paper copies. Please contact us for more information.

Minisemi / Minisemi D

Analog and digital DC converter rated from 18kW to 660kW
Replacement parts and service are not available.
Documents are available only as paper copies. Please contact us for more information.

Midisemi


Analog DC converter
Replacement parts and service are not available.

Maxisemi

Cubicalised DC converter with ratings from 388kW to 3120kW
Replacement parts and service are not available.
Documents are available only as paper copies. Please contact us for more information.

ALSPA PLCs

Obsolete, spare parts only available for supporting of installed base
ALSPA 80-35

With small, medium and high powered CPUs and a full range of network options, the ALSPA C80-35 creates a compact, easy to use control system that can be matched closely to the needs of the application.

Features:
128 to 4096 I/O
6kB to 256 kB memory
Single and dual redundant configurations
Local, distributed or remote I/Operating
Ladder diagram, SFC, Function Block, and ''C'' Languages
Several control programs with different scan times can be processed in parallel on one or more processor boards.

ALSPA C80-35 Data-Sheet
ALSPA C80-35 Programming Manual

Remote I/O CE80-20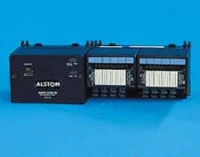 In many control systems, the controlled plant is spread out over a wide area. The ALSPA CE80-20 distributed I/O system allows the input/output units to be located with the controlled plant, saving on cabling and physical space.

Features:
DIN rail mounted
Integral terminal block
Hot swap option
ALSPA F8000, ALSPA N80 and Profibus-DP networking
Communications CE80-20
Bus WorldFIP CE80-20
ALSPA CE80-35
For applications requiring a large number of I/O in a single location, the ALSPA CE80-35 provides a compace, space-saving solution.

Features
High density I/O modules
Up to 320 I/O on a single base plate
ALSPA F8000 networking
Time stamping features (10 mS)
back